Market Summary
The global eHealth market was valued at USD 210.12 billion in 2021 and it is predicted to rise at a compound annual growth rate (CAGR) of 17.81 % from 2022 to 2030. The increasing prevalence of chronic diseases and technological advancements in this field are some of the driving factors. The market is being driven by the rising use of mobile technologies and the internet along with the increasing adoption of home care by patients is expected to propel the market growth. Furthermore, expanding the scope of IT companies in the development of real-time applications and software catering to the healthcare industry is expected to drive demand.
The most important factor driving the market is anticipated to be the transformation of the healthcare sector into a digital healthcare system for the management and analysis of patient health. The application of secure portals for patient access to the electronic health record (EHR) and non-urgent communications with clinicians is one example of a patient and consumer eHealth initiative. Other examples include keeping personal health records and journals of health behaviors and parameters.
"Rising Use of Mobile Technologies Booming Global eHealth Market"
Primary care professionals have employed this technology in rural and isolated places to connect patients directly to specialists in urban areas for consultations. E-health has also been applied to primary and learning opportunities through online learning. By making information easily accessible to consumers and healthcare professionals, e-health advancements have helped international collaborative initiatives. Electronic medical record (EMR) systems are becoming increasingly popular as the healthcare industry is moving toward digitization. A lot of government initiatives, such as encouraging physicians to adopt electronic health records, investing in training the healthcare information technology workers, and establishing regional extension centers to provide technical and other advice.
SEGMENT OUTLOOK:
The global eHealth market is segmented based on Product, Service, and End-use.
By Product:
Based on type, the eHealth market is segmented into big data for health, electronic health records (EHR), health information system (HIS), mHealth, and telemedicine. mHealth is anticipated to continue its lead in terms of revenue during the projection period with a significant CAGR during the forecast period. This significant increase in mHealth can be linked to changing consumer tastes brought on by rising data consumption and demand, as well as the fast-expanding adoption of smartphones.
Additionally, 3G and 4G enabled services like video calling and high-speed data transfer help with quick healthcare delivery. The eHealth market is divided into Electronic Health Records (EHR), health information systems, m-health, and big data for health based on the products it offers. Due to the growing use of EHR by both developed and developing countries, the EHR market is anticipated to grow favorably in the years to come.
By Services:
Based on services market is segmented into monitoring, vital signs, specialty, adherence monitoring, accessories, diagnostic, and healthcare strengthening. In 2021, the monitoring segment has the highest revenue share. This market's expansion is anticipated to be fueled by rising demand for self-monitoring devices, which automatically track a variety of physical activities and vital indicators while creating databases. The market has been divided into monitoring, diagnostic, healthcare strengthening, and other services based on services. Vital signs, specialty, adherence monitoring, and accessories are all included in the monitoring sector.
Over the projection period, the diagnostic services segment is anticipated to grow profitably with notable. Diagnostic services provide immediate connectivity to patients, aiding in the diagnosis of illnesses and other healthcare problems. This element is anticipated to increase demand for these services and stimulate the market.
By End-use:
End-use is segmented into providers, insurers, and health consumers. In 2021, the healthcare providers market had a sizable revenue share in 2021. Healthcare practitioners may handle patient workflow and data with great ease because of eHealth. In the upcoming years, this is anticipated to aid in the segment's growth. The market is divided into healthcare consumers, healthcare providers, insurers, and the government based on end-users.
By Regional Outlook:
Based on geography, the eHealth market is segmented into North America, Europe, Asia Pacific, Latin America, and Middle East & Africa.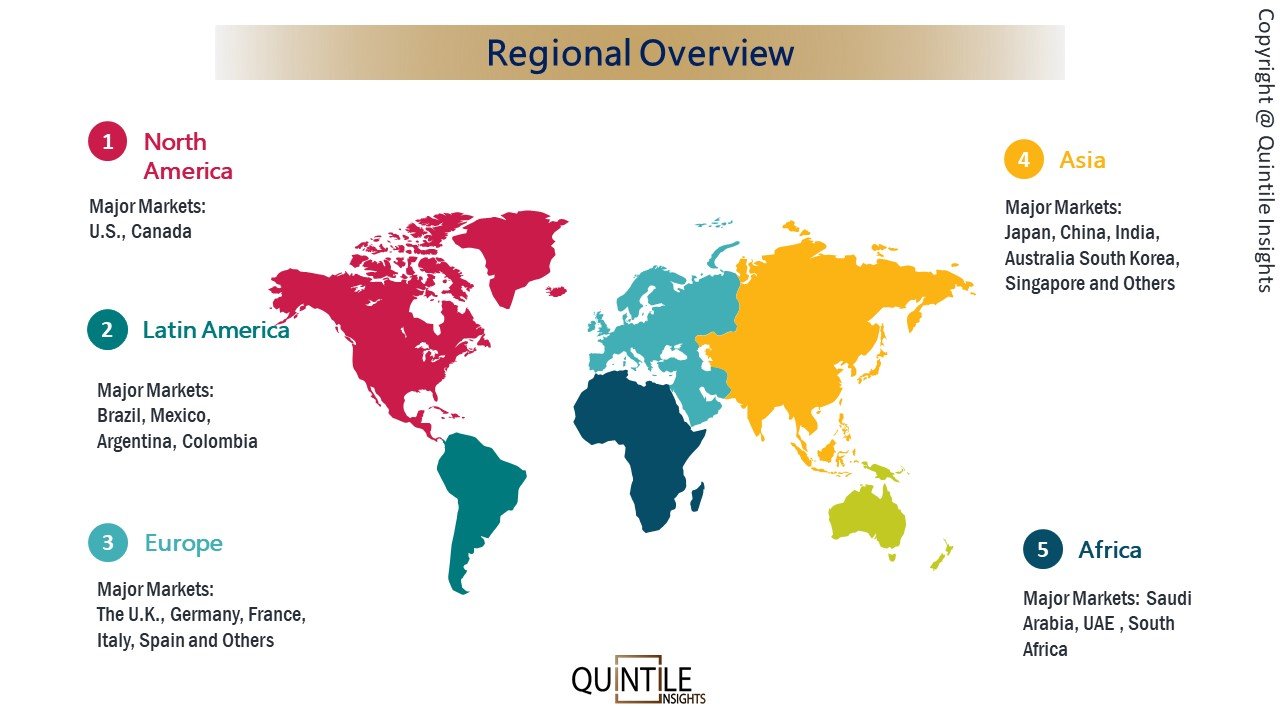 To learn more about this report, request a free sample copy
North America dominated the global eHealth business, capturing the leading market share in 2021. This is due to the accessibility of enabling infrastructure, such as high-speed internet. The eHealth market is segmented geographically into North America, Europe, Asia Pacific, Latin America, and the Middle East & Africa. Due to growing government assistance for enhancing healthcare infrastructure, the Asia Pacific is anticipated to have profitable growth during the projection period. The main drivers anticipated to accelerate the regional market expansion over the forecast period are the presence of a sizable population base suffering from chronic illnesses and the high level of unmet patient medical demands.
By Key Competitors and Market Share Analysis:
The key trends witnessed in this market include new product launches, technological advancements, and collaborations to gain a competitive advantage.
Recent Developments:
      

Lotus Technologies Holdings PTV Ltd introduced Lytus Telemedicine in May 2021. The U.S. and Indian markets are actively served by this platform for telemedicine and telehealth services. The company anticipates that this launch will aid in boosting the uptake of e-health services.
The following companies are some of the major players in the global eHealth market:
• Motion Computing Inc. 
• Epocrates Inc. 
• Telecare Corporation 
• Medisafe 
• SetPoint Medical I
• BM 
• Doximity 
• Lift Labs 
• Apple
| | |
| --- | --- |
| Report Covering | Details |
| Market size value in 2021 | USD  210.12 billion |
| Revenue forecast in 2030 | USD  913.46 billion |
| Growth rate | CAGR of 17.81 % from 2022 to 2030 |
| Base year for estimation | 2021 |
| Historical data | 2017 - 2020 |
| Forecast period | 2022 - 2030 |
| Quantitative units | Revenue in USD million/billion and CAGR from 2022 to 2030 |
| Report coverage | Market dynamics such as Drivers, Restraints, Market Trends and Opportunities, Revenue size, market share, company ranking, competitive landscape, geographical presence, recent developments, strategic initiatives, and overall contribution to the market. |
| Segments covered | Product, Services, End Use, and  Region |
| Regional scope | North America; Europe; Asia Pacific; Latin America; Middle East & Africa |
| Country Scope | U.S.; Canada; Germany; France; U.K.; Italy; Spain; China; Japan; India; South Korea; Mexico; Brazil; Argentina; Colombia; Saudi Arabia; UAE; South Africa |
| Key companies profiled | Motion Computing Inc.; Epocrates Inc.; Telecare Corporation; Medisafe; SetPoint Medical; IBM; Doximity; Lift Labs ; Apple |
| Customization scope | We also provide customized reports and If the information you seek is not included in the current scope of the study, kindly share your specific requirements (any category, subcategory, company profile, region, etc.), and we can have a feasibility check and we could incorporate the same as a part of report customization at no additional cost. |
| Pricing and purchase options | Avail of customized purchase options to meet your exact research needs. Explore purchase options click to buy or write us at sales@quintileinsights.com |
·  
Frequently Asked Questions
The global eHealth market is predicted to develop at a compound annual growth rate of 17.81% from 2022-2030 to reach up to USD 913.46 billion by 2030.
The global eHealth market was valued at USD 210.12 billion in 2021 and is expected to reach USD 913.46 billion in 2030.
North America dominated the market, accounting for about 34.56% of the global market in 2021.
Motion Computing Inc., Epocrates Inc., Telecare Corporation, Medisafe, SetPoint Medical IBM, Doximity, Lift Labs, Apple, and Others.
eHealth is becoming more common across the globe and there is a substantial investment in healthcare facilities, therefore the market is expected to rise. Furthermore, the industry is being driven by rising internet usage. The global impact of COVID-19 has been unmatched and staggering, witnessing a medium effect on demand across all the regions amid the pandemic.